As a packaging professional, it's not common to heavily think about the adhesive. After all, if you're not thinking about adhesive, isn't that a good sign?
If there's one thing we know to be true about glue, it's either that it sticks or it doesn't stick.
Glue can sometimes fly under the radar, especially if production is running smooth. But when the adhesive doesn't stick, your packaging fails, and downtime threatens your production, you begin thinking about the adhesive.
Poor adhesion is a sign that you may be using the wrong type of adhesive for your substrate and/or the substrate may have a difficult-to-bond coating. If you were to look at where the adhesive was applied, you would notice that it does not fully transfer to both sides of the substrate since it is unable to form a bond.
From Poor Adhesion to Great Adhesion
If you're experiencing poor adhesion, there are three routes you can take:
1. Check to make sure the substrate hasn't changed
If the adhesive was previously adhering to your substrate, make sure that your substrate hasn't changed. For example, the coating may have become too thick in the gluing areas of your box flaps.
2. Spare out the gluing areas of coated stock
Sparing out, or scoring, the coated stock of the glue flap areas may solve poor adhesion. These notches in the packaging will make it easier for the adhesive to penetrate the substrate.
3. Select an adhesive more suitable for the substrate
Sometimes, the easiest solution is to select an adhesive that is better suited to adhere to the substrate. We suggest that you work with an adhesive supplier to find the best solution for your packaging application.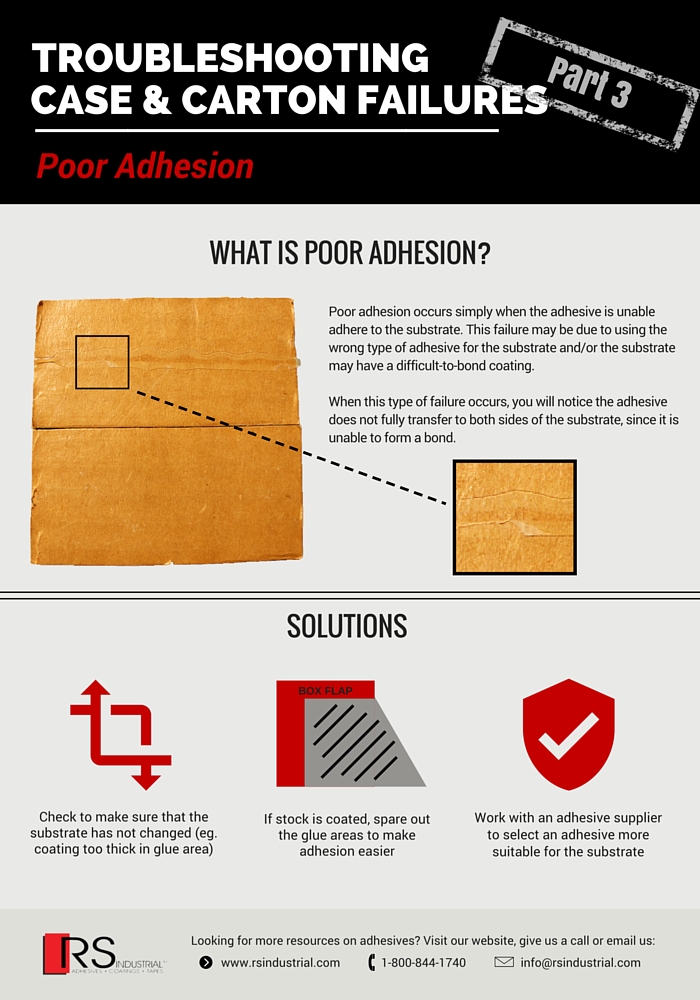 While there are a variety of reasons your packaging may fail, we always recommend you work with an adhesive supplier to identify the issue and find the best solution. For more information, contact us at 1-800-844-1740 or use the contact form below.