If your process involves bottle labeling, you know how much unexpected issues can hurt your bottom line. When labels fail to adhere properly to bottles, reworks and downtime can increase your costs and decrease production.
Since bottle labeling can be a complex application, there are many potential issues that may arise, along with a wide range of possible causes for that particular issue. This can make it difficult to diagnose and solve the problem to get your production running again.
Some issues we've commonly seen in the field include, but are not limited to:
1. Labels curling away from bottle
2. Wrinkling or blistering of labels
3. Failure to pick labels out of hopper
4. Adhesive smearing on bottles or labels
5. Spotty adhesion
6. Labels tearing in machine
7. Labels falling off
8. Crooked labels
With numerous potential issues, we've broken our Bottle Labeling Troubleshooting Guide into two parts. Part I here addresses the first half of the list.
You can use the Bottle Labeling Troubleshooting Guide below to help guide you with any issues you might be having with your adhesive or labeling equipment: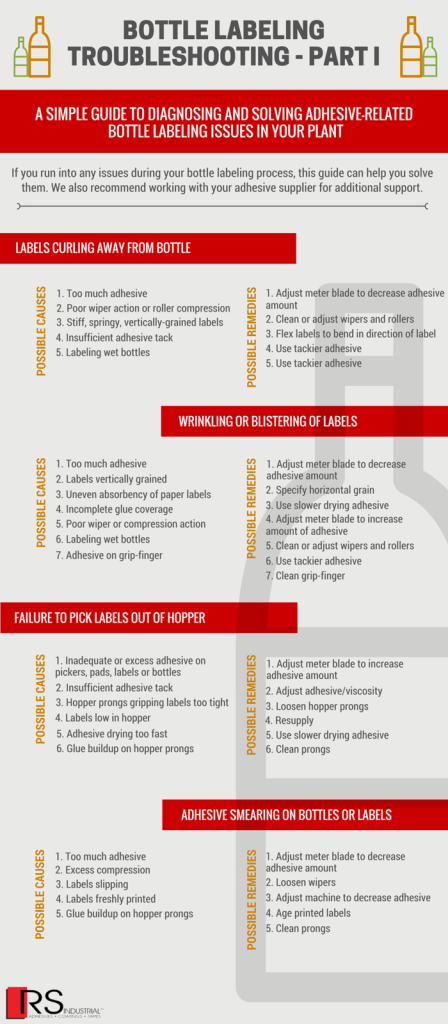 If the issue is indeed adhesive-related, we recommend you work with your adhesive supplier for additional support. Our adhesive experts are here 24/7 to provide technical service and address any concerns you may have. You can talk to us about your application by calling 1-800-844-1740, emailing us at info@rsindustrial.com, or reaching out via our website contact form.
Be on the lookout for Part II this time next week, where we will cover issues 5-8!