Just a short year ago, you could find David building amino acids for medical research at a Georgia Southern University lab. Fast forward to today, David is one of the most recent team members to join our RS Labs division as a Technical Service Chemist. In his short amount of time at RS, David has quickly grasped the technical side of adhesives and continues to apply his knowledge to the industries we serve. Whether it's testing products in the lab to find the best solution or visiting a customer's facility to look at their operations, David plays a valuable role in helping customers improve their gluing process. 
We were able to steal David away from the lab and ask him about what it's like to work at RS and the one thing he can't live without:
What led you to a career in chemistry? I would say my first chemistry class in high school made me realize this was something I could do for a living, and it runs in the family – my dad has worked in this field for 30 plus years.
How would you describe working at RS? It's like working with family. We laugh and have fun while we get our work done, and we work strongly together as a team.
What's the most valuable lesson you've learned so far at RS? I'm still learning it, but becoming comfortable outside your comfort zone. There's a limit to your growth if you don't step out into what makes you uncomfortable.
What piece of advice would you give to a new employee? Find the people that are really good at what they do, and ask them as many questions as possible. The more you ask, the more you learn.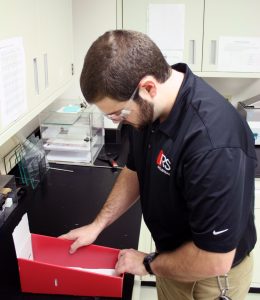 What most excites and motivates you about coming to work each day? The fact that each day is different. One day could be full of testing in the lab, and the next could be out in the field visiting a customer. Also, knowing what we do helps customers makes it very rewarding.
What's one thing on your bucket list? Go skydiving or bungee jumping.
If you could do another job for just one day, what would it be? That's a tough one…I guess I'd go with a doctor or surgeon. They save lives every day so having that chance would be pretty intense.
What's your pet peeve? Bad drivers!
What's one thing you couldn't live without? There are two things, but I think of them as one:  my friends and family
If you had to eat one meal every day for the rest of your life, what would it be? I would imagine this would be tough to answer for most people, but it's easy for me – PB&J sandwiches!