From being the first one in the building to ensure a smooth start for the day to often staying late to ship the last order, Cory is in charge of overseeing our warehouse operations. It's been almost a year since he has transitioned from Material Handler to Warehouse Coordinator. Without a doubt, Cory has excelled in his new role, demonstrating the ability to adapt to change and handle any challenges thrown his way.  
We asked Cory a few questions to get to know him on and off the clock:
How did you get your start at RS Industrial? 14 years ago, I was a young man seeking a new opportunity. Thankfully, RS was hiring and willing to take a shot on an unknown.
What do you enjoy most about your role? Working with my fellow team members and servicing our customers.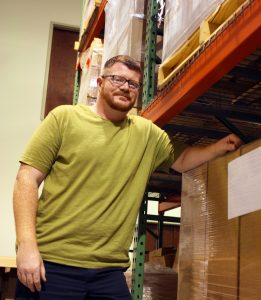 How closely do you work with the other departments at RS? I work closely with all departments at different times, pulling samples for the lab, getting quotes for customer service, getting product ready for a salesperson for a potential customer, and helping package rolls that production has made.
What has been the biggest challenge during your time here? Every day brings new challenges so it's hard to pinpoint just one. 
What is one of your favorite quotes? "I'm a big believer in starting with high standards and raising them. We make progress only when we push ourselves to the highest level. If we don't progress, we backslide into bad habits, laziness and poor attitude." –Dan Gable
What would you consider to be a perfect day? Any day spending time with my family is perfect, no matter how chaotic it may be.   
Who do you most admire and why? My parents. They survived raising me…they instilled a strong work ethic in me and always believed in me, and gave me the courage to believe in myself to accomplish my goals. Most importantly, they introduced God into my life.
What's your favorite type of food? A good old-fashioned hamburger.
Least favorite type of food? Seafood.
What's the best part about working at RSI? The family atmosphere.