You're at your local grocery store when you decide to check out its selection of mix and match beers. As you browse the shelves, how much are you influenced by the labels? Do certain brands draw you in more than others? If you've ever judged a bottle by its cover, you're not alone. 72 percent of wine drinkers purchase wine based on the label.
Labels are the first impression of your product, having a huge impact on the purchasing decision. The appearance of your product is just as important as its contents. You can have a top-rated beer, but if your label ends up wrinkling, tearing, or completely slipping off, chances are it will decrease the likelihood of someone purchasing it.
The type of adhesive you use plays a large role in determining the integrity of your label. Products that need to be refrigerated or submerged in ice water require an adhesive that provides ice water resistance. Without an ice water resistant adhesive, your label might end up swimming at the bottom of an ice bucket. With so much time and money invested in your product, you want to make sure the label holds up.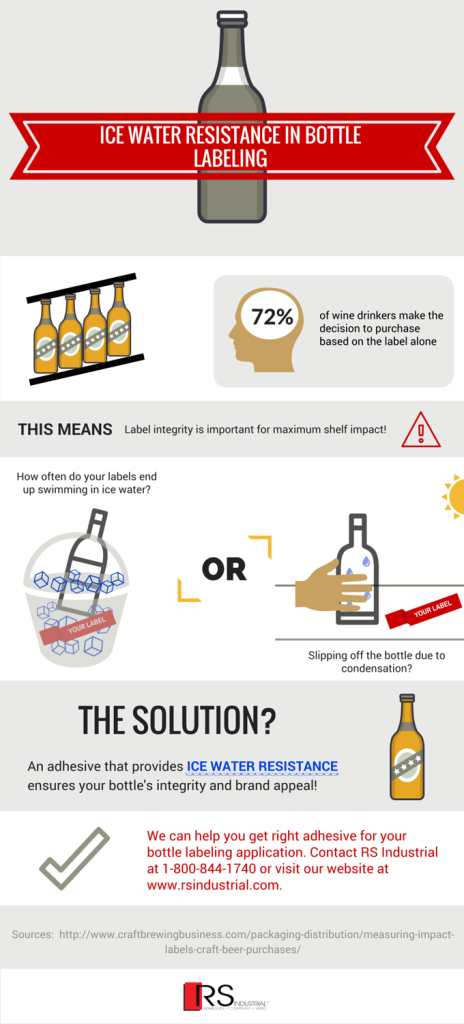 Whether you're a small, craft brewery, or an established beer company, we'll help you get the right type of adhesive for your bottle labeling application. Call us at 1-800-844-1740 or email us at info@rsindustrial.com so that we can discuss your application and provide a solution that fits your needs.