Cyanoacrylate Adhesive for Rubber, Metal, Foam and More
If you drove your car to work today or walked into a store, chances are you stepped foot on some type of mat. From point A to point B, mats are all around the ground we walk on, each kind serving a specific purpose.
Some mats are designed to catch dirt and debris in high-traffic areas, while others prevent possible falls in greasy environments. Mats can provide a warm welcome to customers as they enter your business, and they can allow you to proudly display your own custom logo.
Some Common Mats:
• Entrance/door mats                   • Automobile mats
• Logo mats                                 • Industrial or anti-fatigue mats
What's Holding Them Together?
These mats all have one thing in common—they've got to withstand some rigorous demands. So what provides sufficient strength to make them durable? Mats like these can be manufactured using cyanoacrylate adhesives.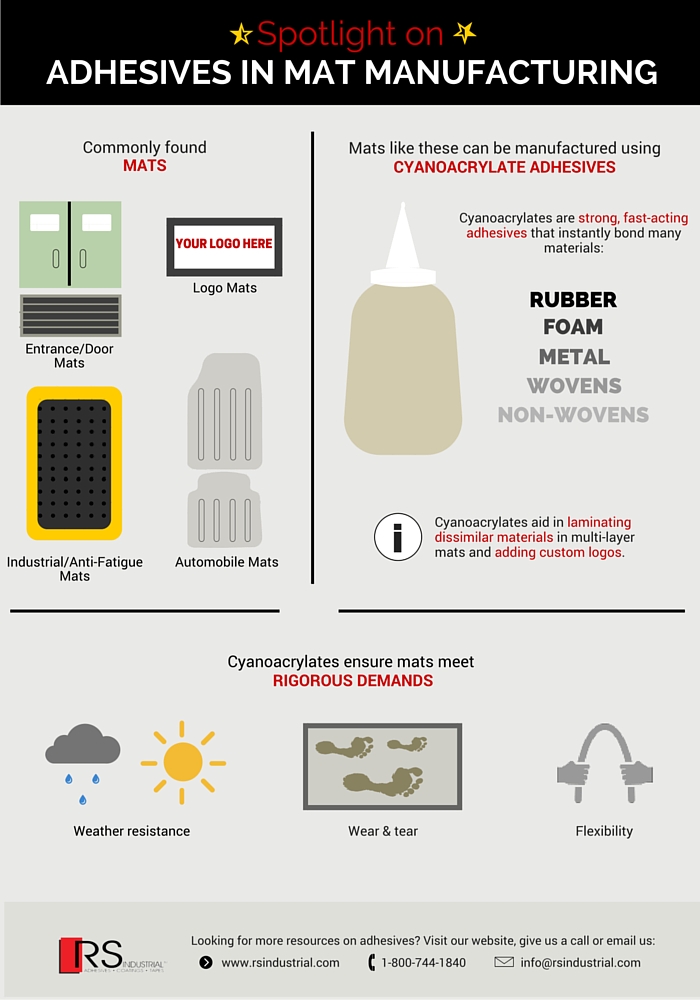 Cyanoacrylates are strong, fast-acting adhesives that instantly bond many materials:
• Rubber
• Foam
• Metal
• Wovens
• Non-wovens
If you think your application may require the use of a cyanoacrylate adhesive, speak with one of our technical service analysts who are available 24/7. We'd be happy to discuss the details of your application and address your specific requirements. You can reach us at 1-800-844-1740 or email us at info@rsindustrial.com